The sport of bouldering is surging in popularity worldwide, with many cities experiencing growth in new gyms wholly dedicated to the sport. Following the introduction of Sport Climbing in the Tokyo Olympics, many people around the globe have taken on bouldering as a hobby. The Olympics introduced "Sport Climbing" which involved three disciplines, lead climbing, speed climbing, and bouldering.
Bouldering is a form of rock climbing typically practiced on low-height walls without any sort of rope or harness. These walls are fitted with handholds made to emulate natural rock formations, simulating outdoor climbing. The climbers must use these handholds to try and navigate the wall. These holds form routes or "problems" that test a climber's strength, technique, and problem-solving. Routes can be set at a variety of difficulties, typically graded on the "V Scale" or the "Font Scale". At the highest levels such as the Olympics, climbers compete on incredibly difficult routes that require intense focus.
Olympic Bouldering Rules
At the Olympic level, bouldering rules focus on route setters creating difficult challenges to test every facet of a climber's ability. The "problems" for men and women are different, but each climber within their category faces the same routes as their competitors. Routes are kept a secret in order to increase the mental challenge for athletes as they must formulate a plan on the spot through visualization and trial.
Each problem begins in the "start" position with predetermined placement for the athletes limbs, where they begin their ascent. Typically there is a midway "zone" hold that awards partial points for reaching, but the end goal is to place both hands securely on the highest hold on the route. Climbers are then ranked based on number of attempts, completions, and zone holds reached.
Olympic Qualification Round
Four routes
Five minutes per route
Five minute rest period before next problem
Top eight advance
Final
Three routes
Six minutes of observation before attempting
One-by-one each athlete attempts each problem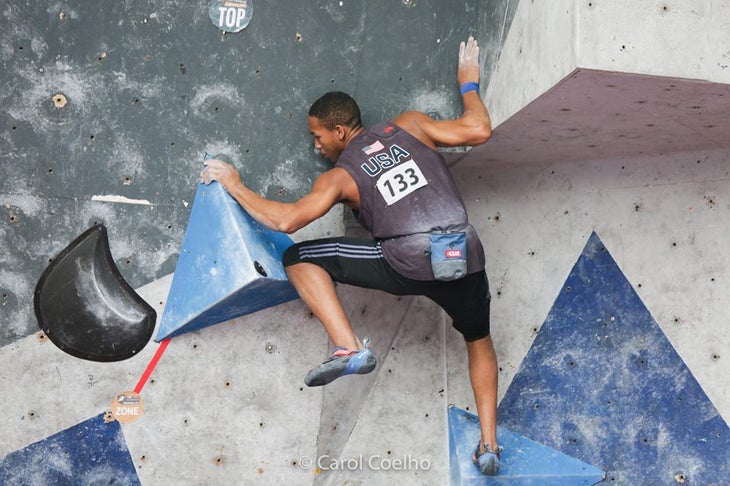 Other Competitions
There are hundreds of bouldering competitions held worldwide each year, and each can vary the structure to accommodate for varying skill levels, facility capabilities, and number of entrants. The factors that typically remain the same are the rules of starting and topping out, setting time limits, and having to solve the route yourself.
Bouldering is a highly competitive, engaging sport that is growing fast. Do you have an interest in exercising your mind and body at the same time? Consider searching out a bouldering gym near you!